- The wine estate -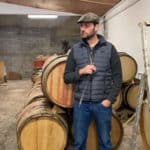 Romain le Bars
Romain le Bars
10 ha
<20mg/l SO2
Organic
Grenache, Syrah, Mourvèdre, Cinsault, Carignan, Viognier, Roussanne, Ugni blanc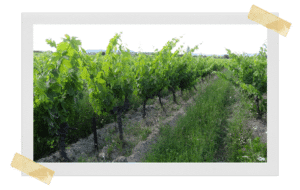 Domaine Romain le Bars: natural wine with great drinkability
The Romain le Bars estate is located in Tavel in Occitanie. Despite his discretion and his humility, Romain le Bars is a young winemaker who start to have some notoriety. Its reputation is undoubtedly due to the quality of his wines.
He is part of this new generation of thirty-year-old winegrowers who are shaking the Rhone Valley with, among many others, Simon Gastrein from Hameau Touche Boeuf or the Soulliers Brothers.
…
The winemaker's journey
First trained in the Loire, Romain spent 7 years working with Eric Pfifferling from the Anglore estate. It seems that Romain is well imbued with this great name of natural wine. From his first vintages, Romain is already known, even beyond borders and oceans.
In 2018, with only 1 hectare and a half, in Tavel, he produces his first cuvée in his garage. We, we like the determined guy who start from little to assert what they love! It's a bit like when the vine struggles to make its way through the rock, afterwards, you can feel it in the wine.
Then, he moved to 10 hectares, diversified his grape varieties and swapped his old garage for a beautiful 200 m2 cellar for rent.
…
The domain of Romain le Bars
The estate's vines are not biodynamic, at least not yet. Because Romain does not want to do things by halves and prefers to take his time. Get to know these vines and their soils well. His reasoning stands. After all, observing your environment remains one of the essential principles of biodynamics that can be applied with few means. And Romain le bars is certainly one of those winegrowers who observes.
…
In the cellar
Thanks to his talent and the experience acquired from his mentor, he makes precise, harmonious and gourmet wines. A lot of carbonic maceration but not only. Without chemistry, gentle pressing and just a pinch of sulfur at bottling to maintain this stability.
In terms of appellations, Romain is open minded. It has cuvées in AOC Lirac and AOC Tavel as well as in Vin de France. He wants to change mentalities on the specifications. And for that, what better than to infiltrate the system from within?
30126 Tavel

romainlebars@hotmail.com