- The wine estate -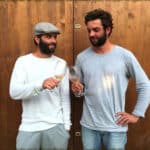 Les Frères Soulier
Charles & Guillaume Soulier
8 ha
<30mg/l SO2
Organic
Grenache, Cinsault, Syrah, Ugni blanc, Counoise, Picardan, Terret Noir, Muscardin, Vacaresse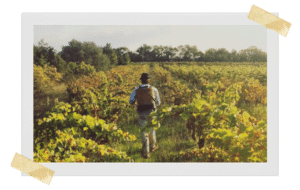 The Soulier Brothers
Les Frères Soulier is the story of two brothers, sons of wine growers. In 2014, in their thirties, Charles and Guillaume Soulier returned to family traditions. After studying landscaping for one and business for the other, they bought 4 hectares of vines on their father's estate in the commune of Saint Hilaire d'Ozilhan, in the Gard (south of France), between Nîmes and Avignon. Then they bought 2 other hectares from neighboring winegrowers. And between 2015 and 2016, they planted 2 more (old forgotten grape varieties such as: Counoise, Picardan, Terret Noir, Muscardin, Vacaresse) to expand their vineyard to 8 hectares in total.
In the vineyard, the soil is worked (very lightly) with a horse and it is the goats and sheep that take care of weeding the rows naturally. They only work the base of the vineyard, the in-between rows are grassed and never plowed. They also use some herbal potions to strengthen the immune system of their vines, but without making Biodynamics a religion. The Souliers Brothers like common sense, especially that of nature! No chemical products are obviously used…
The Souliers Brothers Wine
In the cellar, the two brothers let it be… knowing that the wine is no longer mainly made in the cellar, but in the vineyard. No oenological products are used, except for a small dose of sulfite when they feel that their natural wine needs to be stabilized before bottling.
For a few years now, the wine of the Soulier brothers has become increasingly rare to find in the cellar. Offering wines that are often fresh, light and very drinkable for the region (even if there is ripe fruit at the end of the mouth reminding us that the sun is the master here), they are part of this new generation that no longer wants to offer bottles that knock you out… In each vintage, even if they all have their own originalities, we find a mix of tenderness, delicacy and liveliness. At Vin-Satori, we are sure that Charles and Guillaume Soulier will be major players in the natural wine world for many years to come… !
30210 Saint-Hilaire-d'Ozilhan

charles.soulier.lapierre@gmail.com
+33 668 829 672