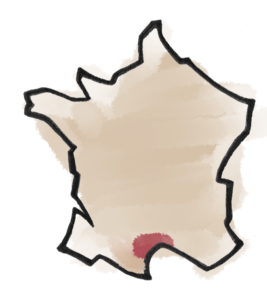 Languedoc Natural Wine
Languedoc : The Young Generation of Natural Wine
In the wine shops, the choice of natural wine from Languedoc is quite important. In the past, this region (for understandable reasons) had a very bad reputation. Winegrowers often produced large quantities without seeking quality, and the wines were also sometimes (as in Roussillon) blended with Spanish wines in order to reduce production costs. And even though there are some very nice terroirs, the vineyard plots in the Languedoc are among the cheapest in France. This has allowed many young winemakers to set up without going into too much debt. And young winegrowers mean new philosophies, including growing vines without synthetic chemicals and making wines without added sulfites. It is for this reason that today, the Languedoc has become a real breeding ground for natural wine.
Characteristics of the Languedoc vineyard
Nearly a third of the vineyards in the Languedoc are cultivated organically.
The Languedoc vineyard is immense. It spreads over three departments: Aude, Gard and Herault.
Here, the climate is Mediterranean, hot and dry, the rainfall is low and very irregular. There are winds blowing from the land (mistral, tramontane), and others coming from the sea bringing humidity.
The Languedoc, thanks to its size, offers soils (schist, sandstone, limestone scree, sandy-clay, marl, etc.) and terroirs that are very diverse depending on altitude, proximity to the sea, terraces or hillsides.
The Natural Winemakers of Languedoc
Where to buy Languedoc Natural Wine ?
Find here our favorite online wine shops to buy Languedoc Natural Wine :
The Languedoc Wine
The main red grape varieties of Languedoc are : Syrah, Grenache Noir, Carignan, Merlot, Cabernet-Sauvignon, Cinsault, Mourvèdre…
For the whites: Viognier, Grenache Blanc and Gris, Macabeu, Vermentino, Piquepoul, Colombard, Roussanne, Mauzac, Ugni Blanc, Marsanne…
Within the AOP Languedoc, there are 38 appellations and denominations with their own specificity, all of which are positioned around the AOP Languedoc.
Red wines are often tannic with spicy aromas of garrigue and Mediterranean plants on a background of black fruits. White wines are mostly fruity and voluminous in the mouth, but can also be lively and mineral depending on the terroir and grape variety.
Find here our last tasted natural wines of Languedoc: