- The wine estate -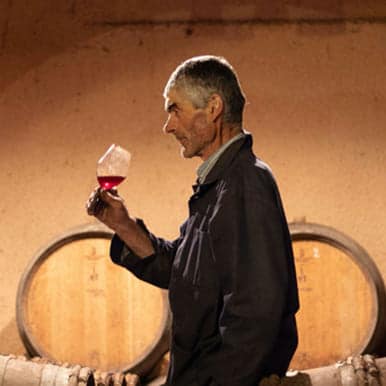 Michel Guignier
Michel Guignier Estate
4 ha
No Added Sulfite
Biodynamic
Gamay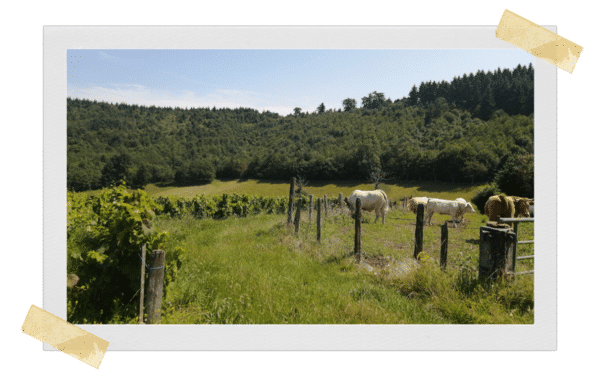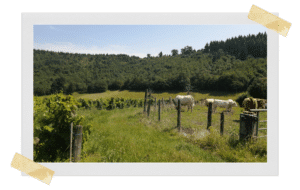 Pioneer winemaker of living wine in the Beaujolais
Beyond the magnificent wines he produces, Michel Guignier is a witness who reminds us of the beauty of nature. It is enough to hear him talk about these moments when he goes into the vineyard very early in the morning, witnessing the awakening of nature, to feel inspired.
The Michel Guignier estate, located in the Beaujolais region, resembles these little corners of tranquillity, out of time. The kind of place where the most pragmatic of Cartesian slowly descends from his head over the hours, caught up by the place. The kind of place that makes your hands tingle. These spaces where you could almost perceive the magnetism in the air. As if there was a sparkling luminosity almost palpable. A real farm surrounded by forest, simply inhabited by life!
The vines of Domaine Michel Guignier
Michel Guignier left the army when he was 20, where he was a tank pilot. He works on the estate with his father, who quickly lets him make decisions. He started direct selling quickly. After several years of conventional farming, Michel became aware of the danger of chemical agriculture and completely changed his philosophy.
The vines are organic since 2000 and our winemaker is immersed in high-level biodynamic. We don't like to be sugary, but here it has to be said: Michel Guignier takes care of his vines with a lot of love. His horse, a true companion, assists him in this work. Michel does not force things. He listens to nature and agrees to have lower yields depending on nature. He hasn't used copper since 2017.
This winegrower promotes polyculture in his domain. A polyculture largely borrowed from its biodynamic practices. He reminds us that there is everything to gain by cultivating in this way when the vine is most often done in monoculture. On the estate of this nature enthusiast, there are also vines, cereals (with which he makes bread), fruit trees, animals and a vegetable garden. This diversity allows a good life of the grounds, a balance in which each element brings mutually. It also prevents developing of crop-specific predators. Finally, Michel Guignier's principle is somewhat to return to what was done in the past, before industrial air and chemistry. In his case, it is even a question of returning to the farm model of his great-grandfather.
The wines of Michel Guignier
In the cellar, he only accompanies juice. Michel Guignier's wines are without input, without added sulfite, without filtration, without exogenous yeast. Michel, on the other hand, leaves a lot of time to his wines. The time to settle down, to make oneself and to infuse poetry. He only sells his wines if they are ready, even if it means waiting several years. And that's means a lot.
69820 Vauxrenard

earlguigniermichel@wanadoo.fr
+33 474 699 152