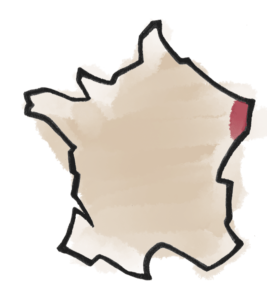 Alsace Natural Wine
Alsace : Bastion of Natural, Organic & Biodynamic Wine
In the world of wine, everyone knows that Alsatian winegrowers are among those who know their soils best. But they are also the most sensitive to their environment since 32% of the vineyard is organic or in conversion, which represents about 5 000 hectares. It is not for nothing that emblematic figures of the defense of Biodynamics such as Jean-Pierre Frick are from the area. Each year, the followers of a method of cultivation without synthetic chemical products, and of a vinification with the least possible inputs in the cellar, gain new winegrowers in their ranks.
Characteristics of the Alsatian vineyard
Almost 35% of the vineyard is cultivated organically. Or in conversion.
The Alsatian vineyard extends from the North to the South of Alsace, from Strasbourg to Mulhouse, on a total production area of 15,600 hectares spread over 119 communes.
The Vosges mountains protect the Alsatian vineyards from the oceanic influence.
The region has little precipitation and a good amount of sunshine.
Many types of soils: limestone, clay-limestone, marl, clay-marl, marl-limestone, granitic, schist, sandstone, loess and lehms soils, alluvial soils…
The Natural Winemakers of Alsace
Where to buy Alsace Natural Wine ?
Find here our favorite online wineshops to buy Natural Wine of Alsace :
The Wine of Alsace
The 7 noble grape varieties of Alsace are Muscat, Slylvaner, Pinot Blanc, Pinot Gris, Pinot Noir, Riesling and Gewurztraminer.
The Alsace vineyard counts more than 600 different AOC-AOP (red, white, rosé, crémant, late harvest, etc).
With a wide variety of grape varieties and soils, Alsace's white wines can be lively or aromatic, while the reds are often fine and delicate.
Find here our last tasted natural wines of Alsace: