- The wine estate -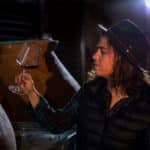 Justine Vigne
Justine Vigne
4,5 ha
<10mg/l SO2
Biodynamic
Syrah, carignan, grenache, cinsault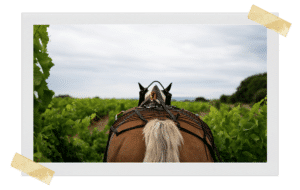 Justine Vigne : natural winemarker from Vaucluse
…
The Justine Vigne estate was created in 2019 in Richerenches in the Vaucluse. Justine's dad gave her a few hectares of this family estate which has seen 5 generations of farmers succeed each other since 1826. This will be Justine the first of the family to make wine!
…
Justine Vigne journey :
Artist, traveler, idealist in search of meaning and humanist ecology, many of the 90" generation will find a bit of themselves in Justine's journey. During these trips in France and abroad, she will meet many people within the farming and wine-growing communities. Among these meetings, Justine will have the chance to meet Alex Podolinski, a big man of biodynamic, during her trip to Australia. She will remain in contact with him until his death in 2019. This meeting will have a big influence on her and will mark her desire to move towards true biodynamics and a thorough understanding of her soils. In 2017, this young winemaker set to work, in 2018 she made her first two cuvées, and created the estate in 2019 with the cellar in 2020.
The vines were planted by the grandfather in 1950. As soon as she returned from her trip in 2017, she passed them directly to organic farming. Then works biodynamically. In particular, it reintroduced the horse to work the soil, more in phase with her vision of agriculture and making it possible to avoid soil compaction. For 2023 an agroforestry project is on the program!
As a good idealist who does things thoroughly and who is inspired by the best, even if it means crossing borders, Justine decides to vinify these wines in Georgian Qvevris (large terracotta jar lined with beeswax and buried) and in Oak barrels. Of course, she makes natural wine without input, a pinch of sulphite if necessary (10gr / L) to stabilize everything.
…
A fiery young natural winegrower who knew how to combine and reconcile these various attractions, and who today practices the art of the living through the profession of the vine. To discover and follow!
84600 Richerenches

justinevigne@icloud.com
+33 649 956 654