- The wine estate -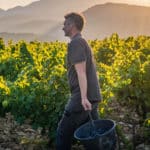 Domaine d'Ouréa
Adrien Roustan
20 ha
Biodynamic
Grenache, Syrah, Cinsault, Carignan, Mourvèdre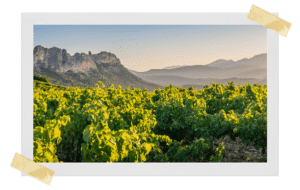 Domaine d'Ouréa : natural wine from Gigondas et Vacqueyras
…
Adrien Roustan took over land from his grandfather in 2009 and created the Domaine d'Ouréa in the Vaucluse, communes of Gigondas and Vacqueyras.
Already cultivated by the great-grandfather, at the time in polyculture, wine is clearly a family affair among the Roustan. A fan of manual harvesting from the start, he produces wine in the most natural way possible. Adrien Roustan converted his land to organic from the first year and after 10 years switched to biodynamics. He works with the help of Hissam Jait and a small, close-knit and motivated team formed by him.
The AOC Gigondas vineyards are spread over 4.5 hectares, divided into 5 small very steep plots located on the southern slope of Montmirail between 400 and 520 meters above sea level. The plots are well ventilated, and the sun reflects on the whiteness of the ground. Chalky and calcareous, these white pebbles bear witness to what lies beneath: the bedrock within which the roots of the vine weave their way through its cracks.
The estate also has plots in AOC Vaqueyras and AOC Côtes du Rhône from which stand out straight and distinguished natural southern wines. The harvest is done early so that the wine remains lively and avoids heaviness.
Founded in 1945 by the great-grandfather, the cellar is made up of concrete vats, some of which are buried. The wines are made without any oenological input and receive a homeopathic dose of sulfur. Adrien Roustan attaches great importance to appellations which, according to him, still belong to the future.
A winemaker who seeks vibration and movement in wine and who knows how to move forward with patience, without rushing the steps, letting himself be guided more and more by his feelings.
Interview par Jus de la Vigne !
84190 Vacqueyras

info@domainedourea.fr
+33 660 942 357