- The wine estate -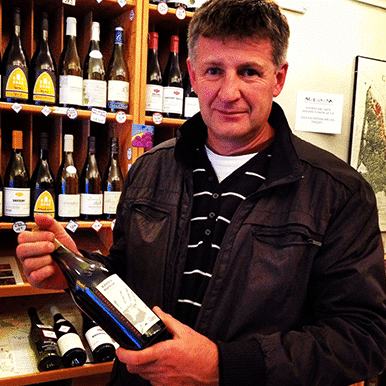 Domaine de la Renardière
Jean-Michel Petit
7 ha
small amount of sulfite
Organic
Savagnin, Ploussard, Pinot Noir, Trousseau, Chardonnay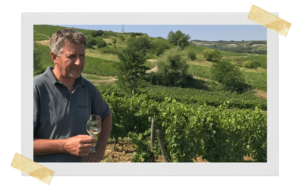 Domaine de la Renardière in Jura : it's square!
In the village of Pupillin (not far from our dear Kévin Bouillet), Jean-Michel Petit and Laurence Petit started the Domaine de la Renardière in 1990 by taking over 1 hectare of vines from Jean-Michel's parents, who were themselves vines workers. Then, year after year, they rented or bought other small pieces of vines until they obtained their 7 hectares.
Seven is a good number. Indeed, the couple of winegrowers has the will to stay on a human-sized domain to be able to take care of it well.
The vines are about thirty years old and are pampered without chemicals, pruned short and harvested manually. In the cellar, the two winemakers accompany the wine with a minimum of intervention and allow themselves only a small dose of sulfite as the only input.
The 7ha of organically grown vines are located on a soil composed mainly of red marl (a mixture of clay and limestone conducive to the production of fine and elegant wine). The classic Jura grape varieties are present: Savagnin, Ploussard, Pinot Noir, Trousseau, Chardonnay.
At the Domaine de la Renardière in Jura, the vinification is parcel-based (as well as the maturation). This type of vinification consists in harvesting, vinifying and then maturing the grapes from a single isolated plot without blending them with grapes from other plots. This purist approach aims at expressing as faithfully as possible a given terroir without seeking balance at all costs.

The wines of the Domaine de la Renardière
The domaine produces red wines as well as white wines from the Jura and a little yellow wine (yum!). The latter has been cited and rewarded by the Revue Française du Vin (RVF) and the magazine Le Rouge et le Blanc.
These racy wines from Pupillin represent faithfully and with class this Jurassian terroir. We especially recommend the whites!
39600 PUPILLIN

renardiere@libertysurf.fr
03 84 66 25 10