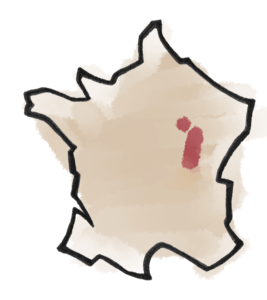 Bourgogne Natural Wine
Burgundy : Exceptional Terroirs & Natural Wine
Along with Bordeaux, Burgundy is probably the name that makes wine lovers salivate the most. But unlike their rivals, the local winemakers have been able to jump on the bandwagon that is radically changing the wine world. Indeed, finding natural Burgundy wine is not something very difficult. Many young winemakers, some of whom come from families that have been in the region for centuries, have been able to ask themselves the right questions about how they grow and make wine. And this results in something quite simply exceptional… No wonder, since we have, without doubt, the best terroirs and climates in the world, combined with the energy of wines vinified without any junk. The perfect combo!
Characteristics of the Bourgogne vineyard
About 17% of the vineyard is cultivated organically.
The Burgundy vineyard represents more than 28,000 hectares of vines spread over 1,247 climats, on a total area of 250 square kilometers.
The climate is semi-continental, with many variations depending on the exposure of the slopes. The alpine surrection and the network of faults has cut the Burgundy region into hills with multiple orientations. The climate is variable from one plot to another, we are in the presence of many microclimates.
In Burgundy, the vineyards are mainly located on relatively thin clay-limestone soils of Jurassic age.
The Natural Winemakers of Burgundy
Where to buy Natural Wine of Burgundy?
Find here our favorite online wine shops to buy Natural Wine of Bourgogne :
Bourgogne Wine
Here, red wines are produced from Pinot Noir & Gamay grapes. The white wines are made from Chardonnay & Aligoté.
There are 23 regional AOC appellations, 44 village AOC appellations and 32 Grand Crus (including 562 Premiers Crus appellations precisely delimited within the municipal appellations).
Burgundy wines are known all over the world for being the finest, noblest, most elegant and deepest.
Find here our last tasted natural wines of Bourgogne: