- The wine estate -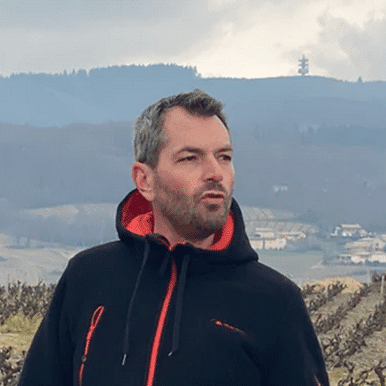 Antoine Sunier
Domaine Antoine Sunier
5 ha
<30mg/l SO2
Organic
Gamay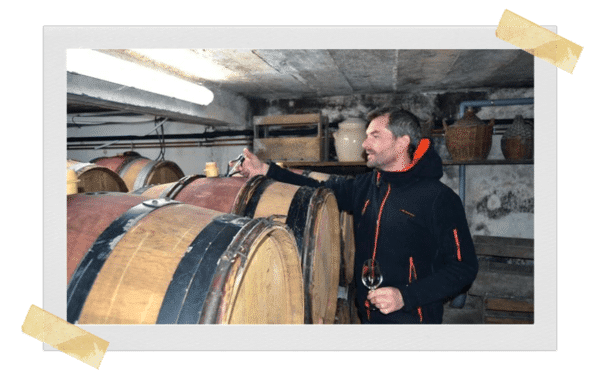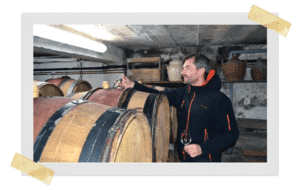 Antoine Sunier's background
Antoine Sunier grew up in Dijon. In his mother's hairdressing salon, he met a lot of winemakers, including Christophe Roumier. These were his first influences. When he was older, while his brother was working in the wine field, Antoine took a detour by working for a telecommunications company for a few years.
Antoine was clearly inspired by his older brother, himself a winemaker, Julien Sunier. When Julien started his own vineyard in 2008, Antoine spent his vacations helping him and working with his friends. In 2012, the call of wine is too strong, he blows up his job and gets into serious things!
He starts studying in Beaune. Then he did two internships: one with Jean-Claude Lapalu, a pioneer of French natural wine, and the other with Château de Prémeaux in Burgundy.
Once trained, the young winemaker Antoine Sunier starts with a few rather old vines, some of which was already organic in Régnié and Morgon, and a small vinification cellar.

Beaujolais is a welcoming land for young winemakers
What's great about the Beaujolais region is that it continues to answer the call of young people who want to get into wine with little money. For those motivated to find the gem, it is still possible to find amazing vineyards at reasonable prices. This is how a dynamic community of young, natural winemakers has been built and is thriving today in the Beaujolais. Working in a beautiful spirit of collaboration, beautiful Gamay-based real treasure are coming out of these domains.
Finally, this community was born a bit thanks to the "Gang of Four" (Lapierre, Thevenet, Foillard and Breton) who put the dough in the 1980s. The great gentlemen who helped revolutionize the region, the natural wine and gave back a rightful place to quality Beaujolais.

Antoine Sunier's Wine in Régnié
Antoine Sunier made these first wines in 2014, a Régnié and a Morgon. The Régnié comes from about two hectares of vines about 45 years old on Forchets and Potet. And the Morgon comes from 1.2 hectares of 60+ year old vines located in Grand Cras.
Concerning Antoine Sunier's wine, the harvest is done by hand. Carbonic fermentation in concrete tanks. Native yeast. Fermentations last between 8 and 15 days, after which the grapes are pressed before being aged in Burgundy barrels (min 8 years old). Aging lasts 7-8 months, then the wines are bottled without fining or filtration, with only a very small addition of sulfite at bottling.
The domaine Antoine Sunier reveals a textured, fleshy style, between power and delicacy, ample and graceful. The kind of mystery of Beaujolais wines that we love.
The Sunier brothers are known for being ultra-chalant winemakers with infectious smiles. This warmth combined with their liveliness of spirit makes them fine representatives of the region and its wines.
69430 Régnié-Durette

a.sunier@hotmail.fr
+33 4 27 49 99 72