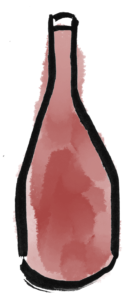 Best Biodynamic Wines
Find here the selection of our best biodynamic wines!
What is Biodynamie ?

Biodynamic wines are made from organically grown grapes. But the Biodynamic approach goes even further to seek a balance between the ecosystem of the vine (fauna and flora) and man. This includes the preparation of decoctions of plants to treat the vine, the respect of the lunar calendar to carry out work, the abolition of practically any oenological input during the vinification, etc.

Our Best Biodynamic Wines

You will find here the selection of our best biodynamic wines made by a sommelier and wine merchant. The ones that made us vibrate, because they had that extra something, a particular energy, the right balance, the right aromas, that we tried to describe as well as possible so that you can find the bottle that will give you the most pleasure in the mouth.

Buy Biodynamic Wine

We are not an online wine shop, so we do not sell wine directly. But for each bottle described, you will find a choice of partner wine shops (selected for their ethics & their great work of selection) where you can buy the biodynamic wine you want.