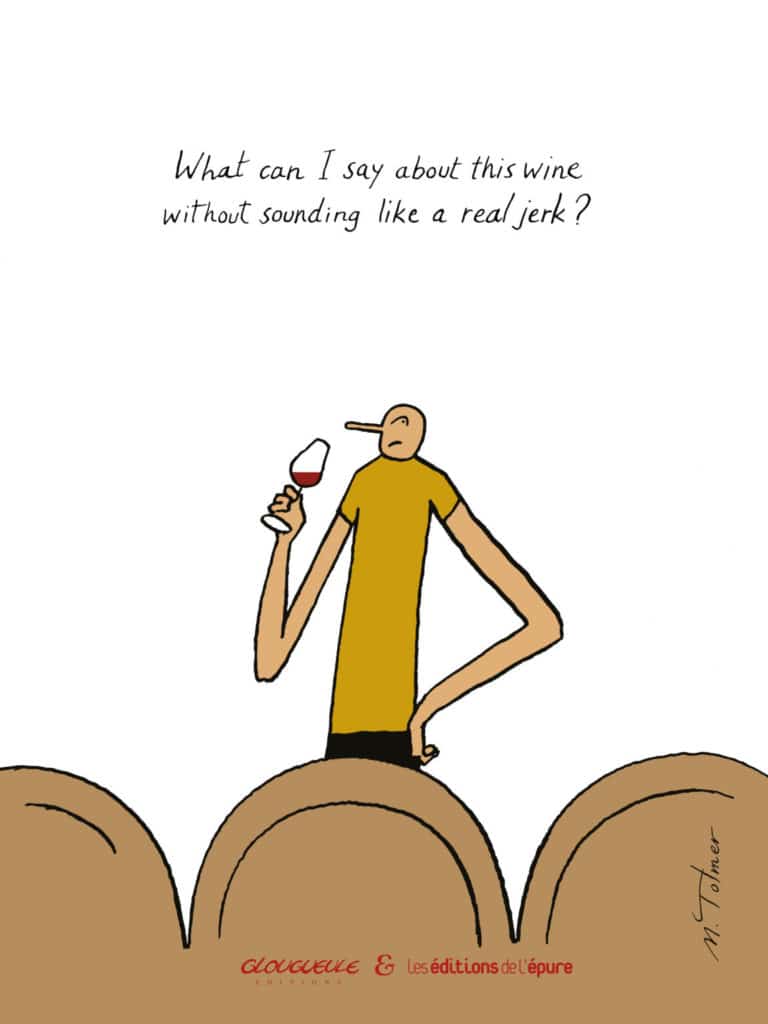 – What is the difference between aromas and flavors? –
What is the 5 basics taste ?
The 5 basics taste: salty, sweet, bitter, acid and umami, are perceptible thanks to sensors on the tongue, there are more than 5,000 taste buds. Umami, which was recently discovered by a Japanese scientist, is difficult to describe. It is generally said that it corresponds to the tasty side of food provided by glutamate and nucleotides.
Since the 2000s, several scientists proved that the perception of tastes is not an isolated phenomenon, not limited to sensors on the tongue. It also depends on a whole taste sensory chain. The heat, aroma and texture of the food are also important. Example: A piece of cake will seems sweeter if it is hot.
Even if we have some certainties today, the perception of taste is a complex journey, where several elements interact … We still have plenty to discover!
What are the aromas in wine?
Aromas are volatile chemical molecules. No artificial flavor is allowed in wine. They come from yeasts (indigenous or exogenous) during winemaking. We perceive it thanks to our sense of smell, which is why we inhale the wine or circulate the air in the mouth. And if we feel, for example, a taste of strawberry in the wine, it is not because there are the chemical molecules of the strawberry, but some which approach it. In tasting, the aromas of the wine are a free interpretation, every one has its own personal library as a reference. So there is no right or wrong answer.
---
– The types and families of aromas in wine –
In wine, there are 3 main types of aromas:
The primary aromas or varietal aromas: They come from the grape (during its maturation). These are the precursors of aromas that the grape varieties possess. Example: Exotic fruit is very often found in Muscat-based wines, it is because this grape variety naturally contains this aroma.
Secondary aromas: These are all the aromas that develop during alcoholic and malolactic fermentation. They correspond to the milk side (milk, yogurt, butter, etc.), amyl (banana, English candy, etc.) and fermentation (yeast, breadcrumbs, brioche, etc.).
Tertiary aromas: These are all the aromas linked to the aging of the wine. (example: leather, spices, animal, etc.).
The families of aromas in wine:
During a tasting, we start from a large family to arrive at a precise aroma and its state. Example: Fruity> red fruit> strawberry> jammy.
Fruity: All fruits (red, white flesh, stone, etc.) fresh, dry, candied …
Floral: All flowers (red, white, yellow, etc.). Acacia, rose, violet, magnolia …
Mineral: Flint, chalk, flint, hydrocarbon, graphite, pencil lead, iodine, salt …
Spicy: Spices: cinnamon, vanilla, ginger, fennel, anise, cloves, liquorice, curry …
Aromatics & herbs: verbena, chamomile, lime blossom, spearmint, bay leaf, rosemary, coriander, lavender …
Wood: (Not due to aging) White wood, green wood, rosewood, bramble, cork, liquorice stick …
Balsamic: (Due to the environment or to aging in wood) Pine resin, cedar, camphor, incense wood, vanilla …
Vegetal: Fresh or cut grass, eucalyptus, fern, hay, straw, clam, blackcurrant leaf, garrigue, cut flower stalk, radish, beetroot, cabbage …
Undergrowth: Undergrowth, mushroom, humus, truffle, wet earth …
Empyreumatic: Grilled, toasted, smoked, coffee, cocoa, incense, ash, wood fire, cigar …
Animal: Game, fur, animal sweat, fawn, cow dung, grilled bacon, cold cuts, fresh meat …
Food: Candy, brioche, butter, toast, cotton candy, marzipan, yogurt, milk, bitter cocoa …
Chemical: Acetone, varnish, paint, sulfur, hydrocarbon, chlorine, tire, tar, plastic, soap, detergent …
---