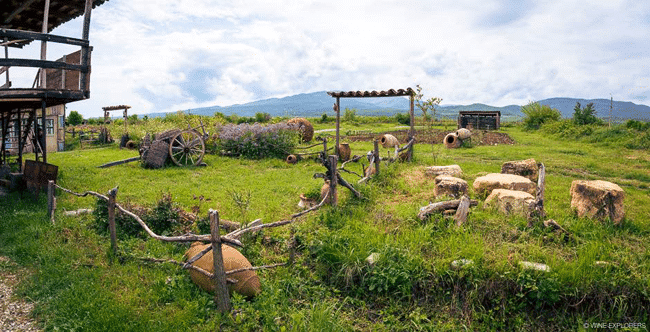 "Here, everyone has a grandfather or an uncle who makes his own wine. A Kvevri buried in the garden that they drink daily or keep for special occasions when it is really good…"
Georgia, the Cradle of Wine
Just arrived in Georgia, you have to take a taxi or a local minibus to reach the city. The portrait of a Saint hangs in the rear-view mirror, announcing the conduct… Through the glass, we quickly guess that Georgia is not in the G20… but there is beauty in these crumbling buildings, these bits of sheet metal and these electric wires intertwining. We also quickly guess that Georgia is the cradle of viticulture. Qvevris (amphoras) of all sizes pile up on the roadside. In town, on every street corner, makeshift merchants sell wine in plastic Coca-Cola or Fanta bottles, depending on your preference… In the countryside, it is easier for a tourist to buy wine than to find to eat. The alphabet of the country does not help… Here, everyone has a grandfather or an uncle who makes his own Georgian wine. A Kvevri buried in the garden that they drink daily or keep for special occasions when it is very good. The taxi driver says his wine is the best, the same goes for the cigarette seller. It's the lottery. Good stuff, even surprising, but a lot of vinegar too…
Here, much like everything else, they make wine as simply as possible. They don't like to bother themselves too much. They put grapes in Kvevris, then they let the juice, the skin and the stems macerate for months. In Kakheti, the largest wine region, they do the same with white grapes. They are the ones who invented orange wine. Well, "amber wine" as they rather say here.
With the grape pomace, they make Chacha. A white spirit with quite a few degrees… warming the souls of some stoic Georgians. "If we smiled during the Cold War, it was fishy…" an old local winemaker confides to me, pouring me another glass of Chacha at 11 a.m. He also explains to me that during this period, there was no longer really wine in Qvevri and artisanal production, but large vats and five-year plans. Everything is industrialized. It was necessary to respond to the thirst of all communist countries and that everyone drink the same wine. Little quality, lots of quantity… Don't talk to them too much about the Russians. It's always tricky, they are still only a few kilometers from Tbilisi. But a lot of locals are still really proud that Stalin was born here. I am shown a building in Liberty Square in Tbilisi, it is here that the child of the country robbed the state bank to finance the Bolshevik revolution, I am told with a smirk.
After independence, some Georgians winemakers are making wine again like their ancestors. In Qvevris buried in their Marani (Georgian cellar), or outside. A production often reserved for its own consumption. Outside of industry, Iago Bitarishvili is one of the first to make artisanal wine, without inputs, and to market it in glass bottles. A singular man at that time because no one was really interested in the country's wine production.
With the Russian embargo on Georgian wines in 2006 (which will last 7 years), the big industrial estates will try to turn to other outlets… Without much success, the Russian market still today represents between 70 and 80% of their sales… But with the emergence of the movement of natural wines and orange wine, the world is more and more interested in the local natural wine, seeking here, a kind of purity, authenticity and simplicity lost… Georgia is taking the opportunity to reconnect step by step with its wine-growing traditions. A group of natural winegrowers is asserting itself and growing. The sommeliers of the world flock. Georgian natural wines are selling very well. The story is beautiful.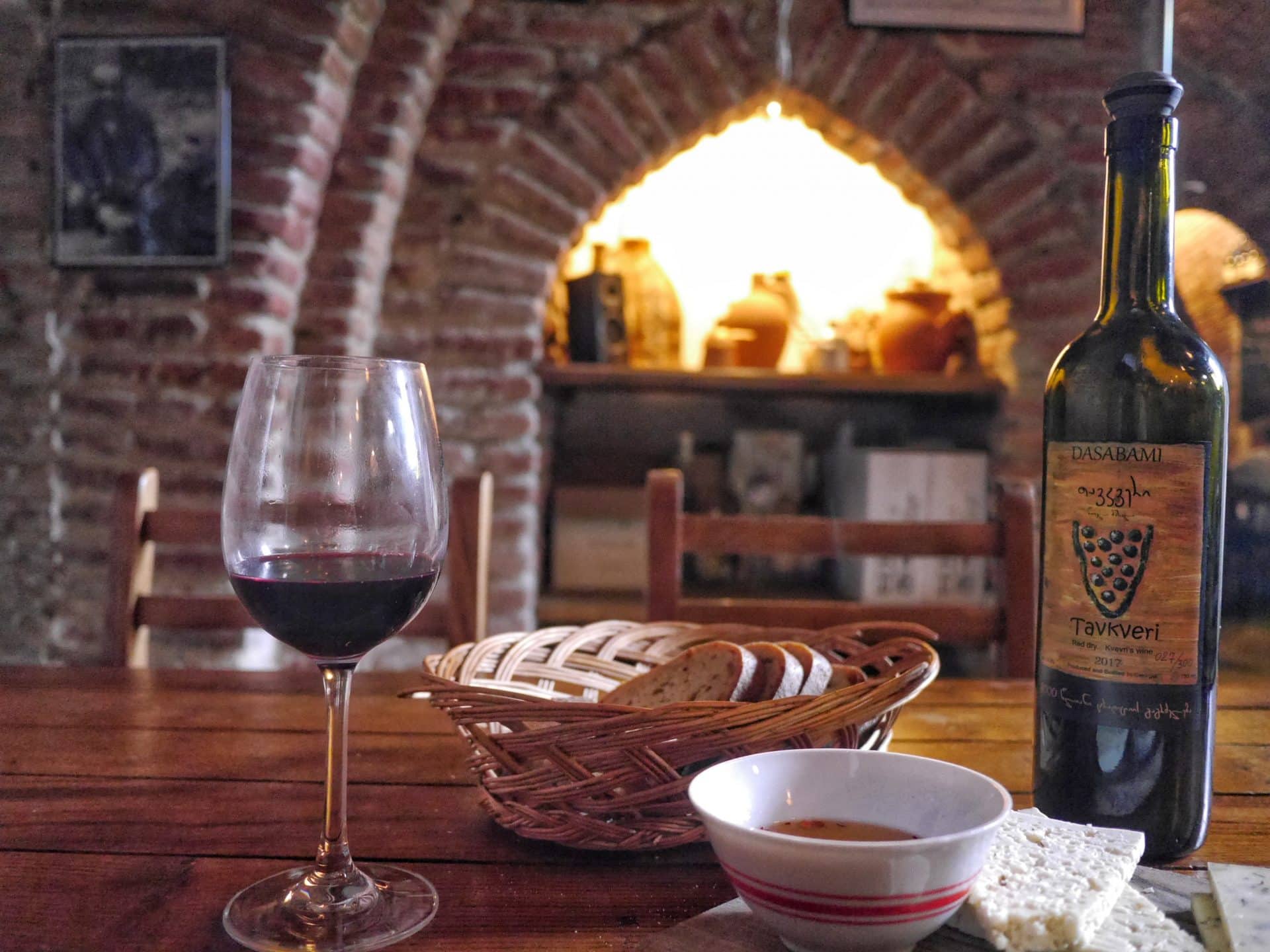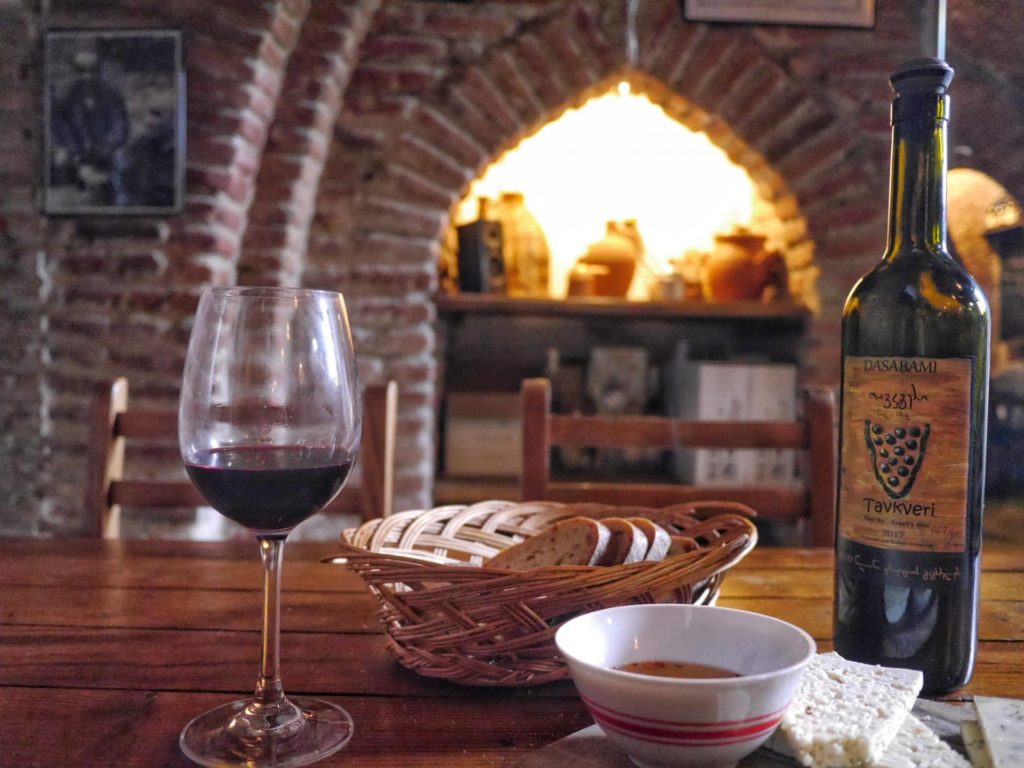 "We feel like the first man who drank wine on Earth… naive and drunk…"
Georgian Natural Wine
In the capital, in the middle of abandoned Soviet buildings that the new generation is reclaiming, natural wine bars are springing up. Hipster bars and clubs too. There's enough to get drunk… In the same street, a frozen communist past rubs shoulders with the breath of a party-loving, trendy youth, eager for change. The impression that everything has to be rebuilt, that everything is possible paints this contrasting landscape. Techno lovers even claim that Tbilisi is the new Berlin. With over 500 local grape varieties, a variety of soils and climates, a winemaking tradition and unique wines, I would whisper that Georgia could be the new Burgundy…
To taste the rockstars of the natural wines of the area, one address is to remember: Vino underground. The city's first natural wine bar. An associative place created by all the pioneer and slightly crazy winegrowers of Georgia. When you arrive at 15 Galaktion Tabidze, a French proverb is written at the entrance: "You can see your own face in water, but in wine you can see another's heart". The door crossed, you have to go down the stairs plunging into a vaulted cellar. There are hundreds of bottles with intriguing labels, winegrowers passing through town, amateurs from all over the world on pilgrimage, pro nature wine posters and rock music for the atmosphere.
For a few lari, you can taste Gogo wine, Iago's wine, Lapati wine, Pheasant's tears… Names that are increasingly on the lips of wine experts. In these glass bottles, everything is generally mastered, straight and surprising. There is little room for the lottery here. There are unknown aromas that the Georgian grape varieties and soil contain, the typicality of kvevris buried for thousands of years giving a particular substance in the mouth, and the universal energy of living wines. For our natural French patriotic arrogance, this is a great lesson in humility. Each sip of those Georgian wines is the promise of a cultural journey, of tradition and freedom… Faced with these living wines with new emotions and sensations, we find the innocence of the first tastings, freed from all landmarks and prejudices. You feel like the first man on Earth who drank wine… naive and drunk.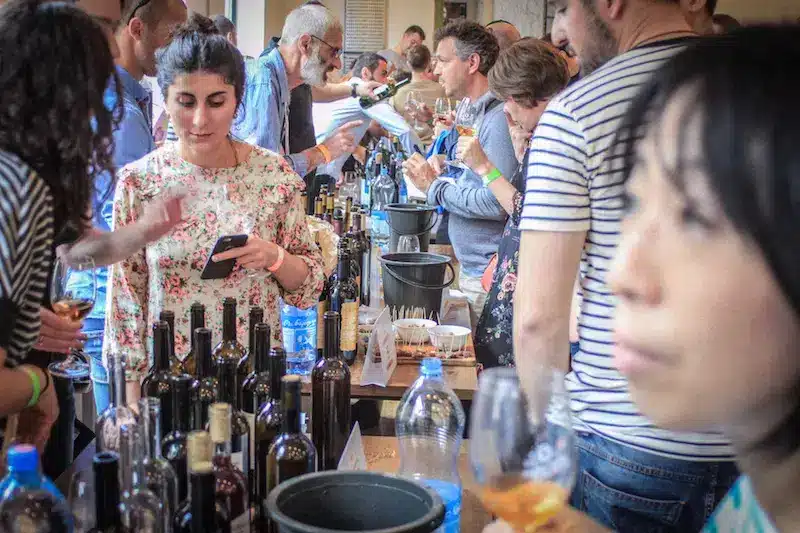 "But "how not to be just a trend?" worries a local winegrower…"
Trend for Georgian Natural Wine Abroad
Georgian wine is a trend. No doubt. Just show up at the Zero Compromise natural wine fair to be sure. If the first editions were limited to a handful of oddballs gathered at the Gvino Undergroud, today the event brings together critics, amateurs, and importers from all over the world. The crème de la crème of this movement, expressing with each glass tasted an "oh my god!" »… The number of exhibitors has also exploded. On the shelves of bars and restaurants, new names are now emerging every month. Despite the training, it's hard to follow… Making natural wine in Georgia is no longer a thing of an old toothless hippie or a peasant who has never turned on a computer, it can pay off big. And like everywhere, there are opportunists and believers attached to their traditions…
But "how not to be just a trend?" worries a local winegrower. Like many of his colleagues, he exports 90% of his production to the United States, Japan, Europe, Australia and even China recently. What will he do if all the thirsty people in these countries find a new way to spend their money? Look to the local market? Even if the Georgian likes to drink, here, you have to be passionate, not too poor, or a foreigner to afford natural wine. In the cellar, the bottle costs, on average, between 40 and 50 lari. And the salary of a waiter is 800-900 lari…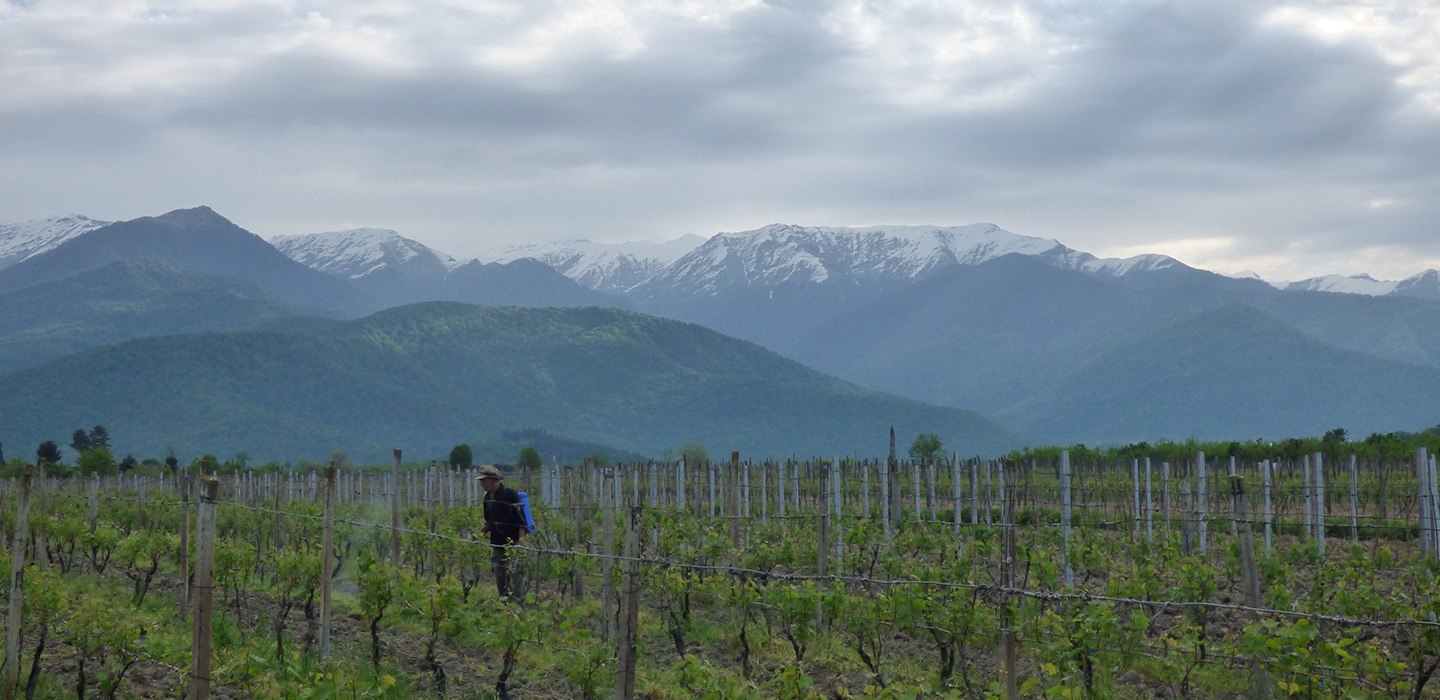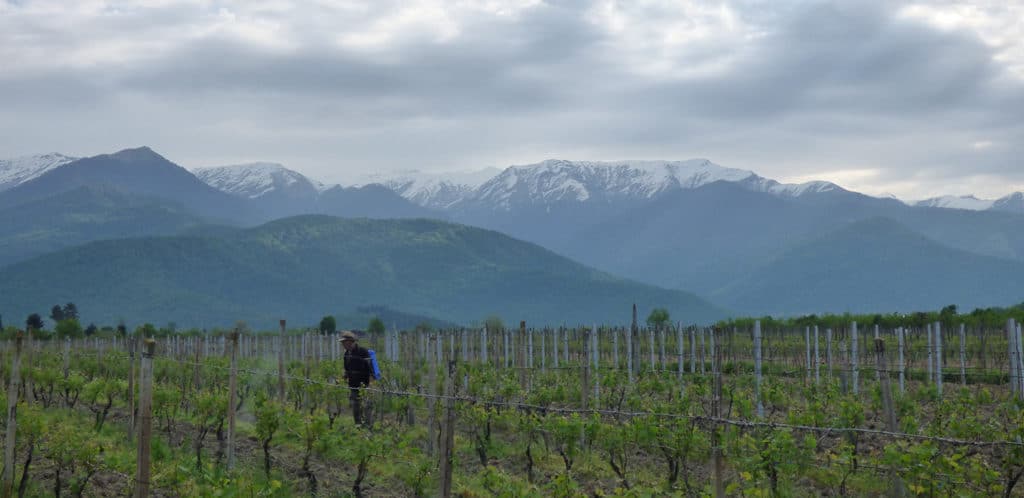 "How not to produce wines that are too powerful and exuberant in plains with rich soil, in the process of desertification and without shade?"
Georgian Wine Issues
So how do we keep the blood of the Orthodox Christ flowing in the glasses of the northern hemisphere? "We're going to have to raise the level", say some protagonists.
By hanging out here, by dint of skimming the bars, toasting to the dead and peace with the winegrowers while listening to polyphonic songs, after a while, the inebriation of the first sips dissipates.. Less naive, some new and amazing flavors become flaws. We realize that a Qvevri should not give taste but only a certain texture. That sometimes the pellicular macerations of the whites harmonize the juices, erasing the terroir effect. That they can also lack acidity and complexity… In short, the romantic history of Georgian wine, its culture and its surprising originality from the beginning, are no longer enough…
Georgia has always been an unstable country. Invaded by everyone who has been there. Around, quite a few are at war, or hate each other. The insecurity of the next day made these people hedonistic. With its good and bad sides. Here, if you have an animal, you eat it. If you have money, you spend it. If you have wine, you drink it. We don't keep it to see how it evolves, you never know what will happen…
Unlike Europe and the precious heritage of its monks, few have studied the soils to find the typicality of a terroir and pass on this knowledge over generations. They had other things to think about… When the Russians arrived, they planted vines all over the plains, on rich land in order to produce large quantities. For a matter of practicality too. Not for the quality. In Europe, vines were planted on hillsides because, unlike cereals and vegetables, they can manage on poor soils, and thus produce fresher and more elegant wines. The vine always has to struggle a little to sublimate its fruit. In Georgia, with the interdependence of communist countries, they practically did not need to produce anything else. The other countries took care of it. Today in its vineyards, in addition to the terroir, the question of global warming arises. How not to produce wines that are too powerful and exuberant in plains with rich soil, in the process of desertification and without shade?
There is also the question of discipline. To make natural wine of consistent quality each year requires a certain rigor. It often comes down to the small details. Without making it an absolute truth, the Georgian charm, where everything is done a bit hastily, can impact the regularity of vintages. Still too many crossed winegrowers (not all of course!) make wine with a lack of rigor, and this is often felt in the juices… Without losing their identity and their singularity, to settle definitively on the tables of the whole world , the new generation, which has liquid gold in theirs hands, will have to be more precise than the old one.
It will also be obliged to refine its ability to taste. Here, the culture of the sommelier is only at its beginning. It was not really the USSR spirit to fuss over wine aromas… But even if taste is obviously cultural and personal, there are flaws, balances, perceptions on which we must all be agree…
Where to Buy Georgian Wine?
To buy Georgian wine, it is usually enough to go to the nature wine shop in your city (click on this link to find some). They will normally have at least a few big names to offer you.
If you want to buy some on internet (the choice will be more important), go to our section: natural wine shop online.
---
To learn more about Georgian wines, we advise you to read Alice Feiring's book – For the Love of Wine. Famous American journalist-author passionate about wine, she spent time in Georgia. In this book, she takes us with her in her luggage!
---